How the pandemic is impacting online learning
Hi there,
We hope this finds you safe and well.
Thanks again for signing up to our mailing list. It feels great to finally be putting our fresh, revamped newsletter into the world.
We're really excited to share what we've been reading about the pandemic's impact on online learning.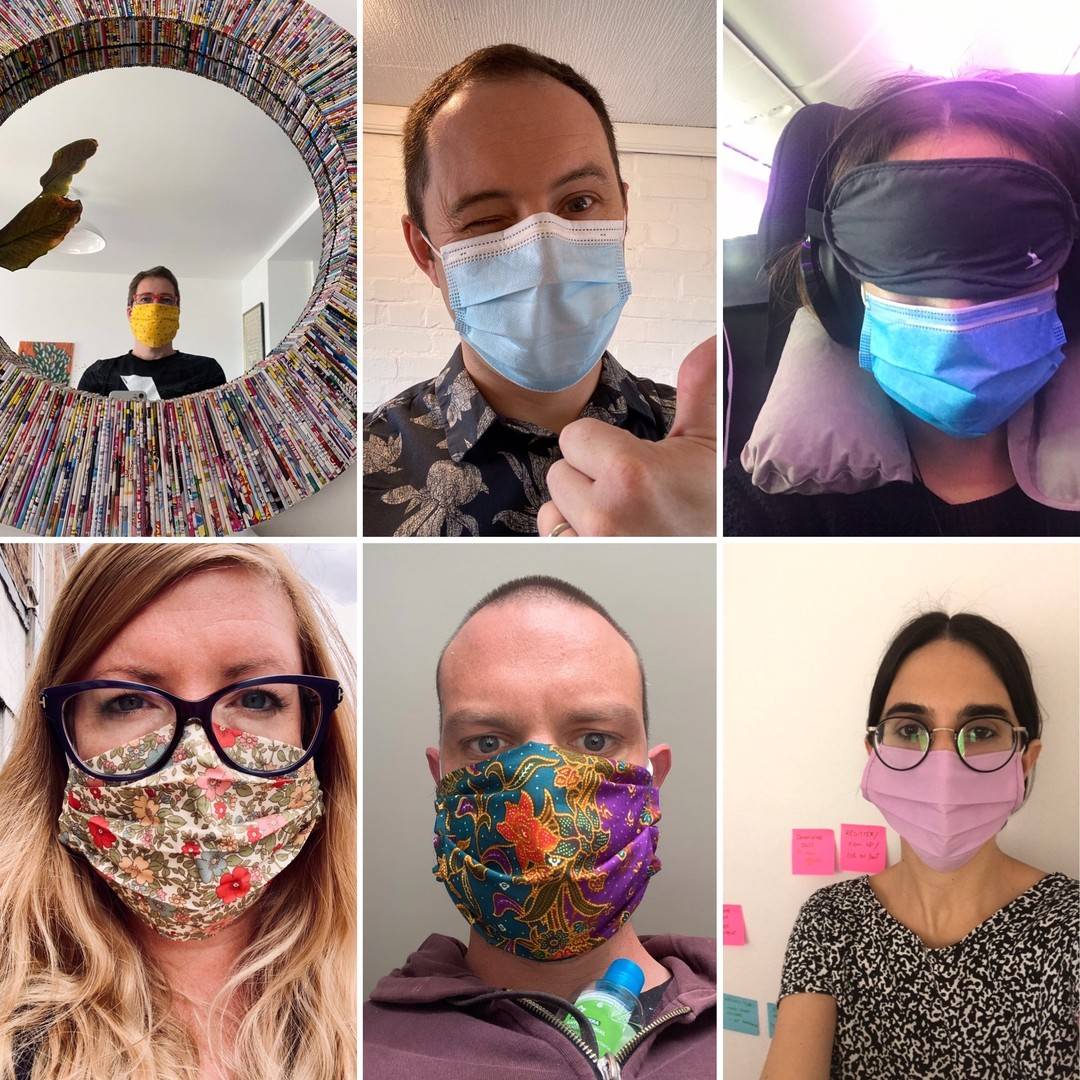 The LearnJam team staying safe @learnjaminsta
The rapid and necessary movement to online learning that played out in the early stages of the pandemic now seems to be giving way to a more deliberate consideration of the challenges and opportunities that it has exposed.
In the HE sector we're seeing efforts to move away from simply replicating lectures online towards AI-assisted technologies that promote more dynamic teaching approaches. The growing constellation of edtech companies – many of whom have experienced exponential growth over the last year – are reflecting on the implications of an education marketplace beyond the pandemic.
We're seeing innovative solutions being proposed for how to manage cheating in online assessments.
There is also the toll on us as individuals as we spend more and more time in video calls. What can we do to ensure we're staying energised and avoiding the dreaded Zoom fatigue?
But firstly …
Learners are being left behind
Last year highlighted the urgent need to design experiences in which each and every learner can participate fully. The COVID-19 pandemic has brought about a dramatic acceleration in existing global trends for learning and working online – and this rapid transition risks partially or entirely excluding some learners, especially those who were already marginalised.
In response to this, we've initiated an Innovate UK funded research and development project to develop and share best practices in inclusive online learning. It's been a journey, but we've really enjoyed sharing what we've encountered along the way.
​
The future of online learning: the long-term trends accelerated by COVID-19
Forward-thinking universities are looking to innovate away from simply broadcasting pre-recorded lectures to their remote students.
"Standing before a camera and broadcasting is not online teaching. You need to do things differently," says Prof John Domingue, director of the Open University's pioneering research and development lab, the Knowledge Media Institute (KMI). Domingue points to the potential of artificial intelligence to create more dynamic, contextualised learning experiences.
KMI is currently developing a personalised AI assistant, an AI career coach and other tools that can analyse essays for marking and set up quizzes on revision topics.
These are great innovations in response to a whole raft of challenges, but we recognise that there needs to be significant training and support for the educators expected to integrate these tools and approaches into their practice.
​
13 investors say lifelong learning is taking edtech mainstream
The global edtech sector received a record-breaking $10.76 billion dollars of venture capital last year, over twice the level of 2019.
The rush to online learning has made unicorns out of companies like Quizlet and ApplyBoard.
What does this mean for post-COVID education? This piece suggests a competitive and complex marketplace is emerging among well-funded edtech companies trying to find their place in the next normal.
​
In the era of online learning, new testing method aims to reduce cheating
​phys.org​
The upsurge in remote learning brings with it concerns about cheating, particularly in the form of collusion between students. This has prompted the exploration of solutions that also maintain privacy. What's interesting for us is how the issue is being tackled from a perspective beyond online proctoring, which is currently the topic of lively debate.
One solution, "distanced online testing" is being proposed by engineers from Rensselear Polytechnic Institute.
It involves sending students test questions at different times depending on their skill level. Students demonstrating higher levels of competence get their questions after other groups have completed answering theirs.
The idea is to remove the possibility for students to receive assistance from their more competent peers.
Data suggests that this approach reduced the number of test points earned through collusion when compared to more conventional exam methods. Another benefit that emerged was that, with the possibility of collusion clearly removed, students demonstrated more motivation and engagement with the study material in their classes.
​
Zoom fatigue is real: Here's how to fight it
This didn't come from the world of learning or education specifically, but we think it's really applicable to anyone running remote training sessions or learning programmes.
Professor Jeremy Bailenson of the Stanford Virtual Human Interaction Lab (VHIL) calls out 4 main causes to this modern ailment:
"Unnatural" eye contact. The prolonged state of having everyone staring at you plays to the commonplace phobia of public speaking. It's an intense situation to be in. Try using a smaller window for your Zoom calls.
Constantly seeing yourself is exhausting. Make use of the "hide self view" feature in Zoom (take note, Google Meet)
Reduced mobility. Being seated through hours of video calls reduces opportunities to move around in more natural ways. Try putting your camera further away from the screen, or turning your camera of occasionally to get some respite.
Extraneous cognitive load. In video calls you've got to perform exaggerated , non-verbal gestures to communicate with your collaborators. Those thumbs up and over the top nods of the head consume "mental calories" . Again, take audio only breaks to ease the burn.
​
Designing for motivation
The shift to entirely remote learning has implications for how we keep learners motivated. Motivation is one of the most important learning design principles – but also one of the most difficult to design for.
In this blog post (and accompanying podcast episode) we explore strategies maximising intrinsic motivation in a learning experience. That means fostering self-direction and agency, providing positive feedback on performance, and encouraging perseverance when things get hard (and learning is hard!)
​
What we're up to
👉️ In February we talked about inclusion in online learning at Macmillan Education's Global Teachers' Festival. Catch the recording of Laura Patsko's awesome webinar here.
👉️ On Tuesday 9th March we'll be taking part in an LXD Meetup on the topic of tools for raising consciousness.​
👉️ We've been putting out more episodes for our Adventures in Learning Design podcast. We've so far covered the use of Agile methodologies in learning design, innovation and dyslexia. More eps on the way.
👉️ In April we're talking about the environmental dimension of Inclusive Learning Experience Design (ILXD) and how it relates to the concept of learning spaces at the LXDCon conference.
​
See you in a couple of weeks for the next instalment of Learning Included!
All the best,
The LearnJam Team